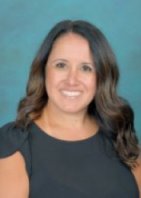 Welcome to the 2022-2023 school year new and returning Deerfield Falcons!
I am honored to serve as the proud principal of Deerfield. This is an amazing community where students, parents and staff work together to make our school great. At Deerfield, we are committed to providing students with meaningful and robust learning opportunities focused on academic and social-emotional growth. 
We look forward to welcoming more than 600 PK-6th grade students on Thursday, August 18, 2022. In the middle of August, you will begin to receive emails with important information regarding the return to school. Our front office will reopen on Monday, August 8 from 8:00 a.m. - 3:00 p.m. daily. Incoming PK and kindergarten parents will be contacted at the beginning of August with schedule, teacher and meet and greet information. 
Our partnership is essential to ensuring success for our students. We are so lucky to have an amazing PTA to provide engagement opportunities for our students and families. Please visit our PTA website for more information on membership and volunteer opportunities. 
We wish you an enjoyable summer break and  look forward to seeing you in August. 
Sincerely,
Alicia Brewer
Principal